News
Sinar Jernih Sees Certification as Way to Face Afta Challenges
By DARSHINI M. NATHAN
(News taken from The Star Business Section: Monday, June 25, 2001)
LOCAL cleaning specialist Sinar Jernih Sdn Bhd considers international standard certification as the way forward in facing the challenges that Afta (Asean free trade area) will bring, said managing director Mohd Said Osman.
He said the company would be more able to handle increased competition in the domestic market with the ISO9002, ISI2020, and ISO14001 certifications.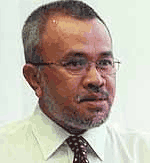 Mohd Said Osman
"We are now ready to face Afta and compete with international cleaning companies that have, similarly, equipped themselves with international standards," Said told Star Business.
He said Sinar Jernih was the only cleaning company in Asia to be certified ISO9002. It was certified ISO14001, the international certification for environment management systems, in February and is now working towards achieving the international Islamic certification, the ISI2020, by August.
According to Said, the ISI2020 certification will complement Sinar Jernih's future plan of establishing a firm footing in the Middle East cleaning services market.
With the recognition, Muslim consumers will have a clear conscience when using the company's services since the set of standards encompasses all aspects of the Muslim way of life.

The company's strict adherence to international service standards has paid off, judging from the significant inroads it has made in the domestic and overseas markets.
It had scored a scoup recently when it was awarded the contract to take over the cleaning services of all 54 hotels under India's Taj Group, starting from July. In the United Arab Emirates, Sinar Jernih acts as a consultant to the cleaning contractors at the Abu Dhabi international airport.
Its notable local projects are the KL International Airport, of which the company is responsible for the cleanliness of five areas, the prime minister's residence and office, STAR light rail transit and Genting Resort indoor theme park.
An agreement with Pantai Medivest Sdn Bhd has resulted in the outsourcing of cleaning functions for all government hospitals in the south of the peninsula and the Pantai group hospitals to the company.
Said, a banker by profession, has decided to venture into cleaning services when he discovered the industry's huge potential. Initially, he started a small company in Malacca and was involved in minor projects like providing waste service management and cleaning services for small factories, offices and banks.
Hard work and perseverance finally paid off in 1995 when he was given the opportunity by Pantai Medivest to provide cleaning services to the Segamat and Batu Pahat government hospitals.
Today, the company has 3,000 workers. It registered a pre-tax profit of RM3.5mil on the back of RM35mil in turnover for last year.