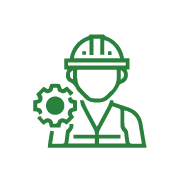 Facilities Engineering Maintenance
Facilities Engineering Maintenance Services keep systems and equipment operating smoothly, as well as taking care of buildings and properties maintenance.
This Department handles electrical, mechanical, civil and structural management which is provided by well trained and qualified Engineers, Technicians and Chargeman that are fit to operate high voltage equipment.
As a mark of our Excellence and Customers Satisfaction we also offer After Liability Period (ALD) maintenance services, Defects Liability Period (DLP) maintenance services and cost saving consultancy.
Scope of work:
Mechanical System
Electrical System
Civil and Structure Maintenance
Interested? Contact us today.
Get in touch with Sinar Jernih for any of the services above.