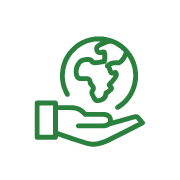 Environmental and Hygiene Care Service
As part of the services, we provide sanitary care and odour control management to create a clean environment. Introduction and installation of sanitizing and disinfecting mechanism in washroom and restroom facility is a hygiene system that enhances the hygiene cleanliness of the hospitals. We install automatic aerosol dispensers for air-sanitizing and odour control which reduces airborne bacteria.
Hygiene Care
Supply and Service of Washroom Accessories (Air Freshener, Sanitary Bin, Sanitizer, etc.)
Landscape and Ground Maintenance
Landscaping plays a crucial role not only in environmental balance, but also as the aesthetic aspect of a building compound. Our expert who are qualified in the field of horticulture will survey your area and provide recommendations to improve your landscape structure
Landscape and Ground Maintenance
Landscape Design and Built
Landscape Maintenance
Supply and Maintenance of Potted Plants
Pest control management is an important element in building management. Preventive and corrective action is our protection to ensure the building is safe and durable.

Pest control management personnel involves in pest control program are well trained and given continuous education and training program in order to upgrade their skills and knowledge.
Interested? Contact us today.
Get in touch with Sinar Jernih for any of the services above.