News
KLIA Award 2012
SINAR JERNIH SDN BHD CONTINUES TO BAG IN MORE AWARDS FOR OBTAINING HIGHEST SCORE IN SERVICE EXCELLENCE CATEGORY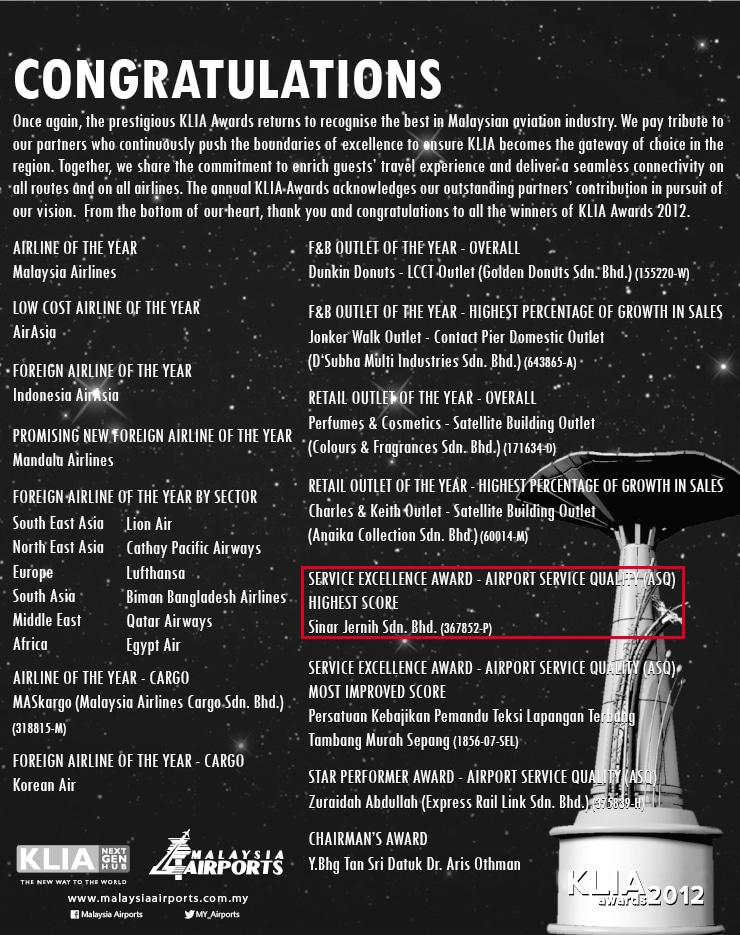 SEPANG – Malaysia Airports held its KLIA awards presentation to honour partners with exceptional performance for the year 2012. The prestigious KLIA Awards is the ideal platform for Malaysia Airports to reward its partners with outstanding performances and services. The presentation of the KLIA Awards is aimed at recognizing and motivating all KLIA business partners that relentlessly push the boundaries of distinction in their fields, enabling KLIA to further advance in service excellence.
As seen in the List of **KLIA Awards 2012, Sinar Jernih Sdn Bhd achieved the highest score for service excellence.
In line with Malaysia Airports' emphasis to continuously enhance and drive the service excellence culture at KLIA, Malaysia Airports is introducing another new award category under the Service Excellence Awards, called ASQ Star Performer Award to recognise and honour the outstanding achievements and efforts of an exceptional individual who, through a combination of personal qualities and exceptional skills, has given significant and sterling performance and contribute positively throughout their career at KLIA.
Also at the award ceremony were YB Dato' Seri Hishammuddin Tun Hussein, Minister of Transport, YB Datuk Abdul Aziz Kaprawi, Deputy Minister of Transport and Y.Bhg. Tan Sri Bashir Ahmad, Managing Director of Malaysia Airports. Approximately 400 guests attended the event which was held at the Sama-Sama Hotel Kuala Lumpur International Airport.