News
It's Dirty Job But Somebody Has To Do It
(News taken from New Straits Times: June 12, 2005)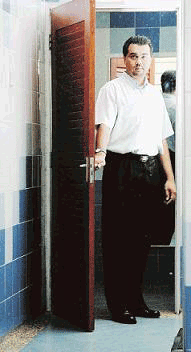 Medical doctor Mohd Nizar Zakaria leaves a lucrative practice to show the cleaning services industry the way forward.
THE medical doctor has a mission — to clean up Malaysia. However, rather than doing it himself, Dr Mohd Nizar Zakaria aka Dr Clean is getting the people themselves to do it — which is simple in its logic but a huge challenge in execution.
"The state of cleanliness affects us in every aspect of our everyday lives, whether we're a patient in a hospital, a pupil in school, a customer in a restaurant or an employee in the workplace," Dr Nizar says.
"But most people fail to realise that cleaning is a science."
CULTURE OF CLEANLINESS... starts with breaking down the tolerance for filth, says Dr Nizar.
Treatment of the cause, not the symptoms, coupled with a healthy dose of preventive medicine, are his prescription for the endemic problem faced by Malaysian society.
First, that means completely breaking down the tolerance for filth and replacing it with a culture of cleanliness.
And second, people will have to be educated on the best ways to clean up and to stay clean.
Dr Nizar is well aware of the big, big job that is cut out for him, that it involves more than just trying to change people's mindset. That is but a starting point, even though it is a massive challenge in itself, as evidenced by the limited success of the numerous public cleanliness campaigns undertaken so far.
There is no question that 35-year-old Dr Nizar is committed to his cause. He had, after all, left a lucrative practice to pursue it. But to him, raising the country's standards of cleanliness is part and parcel of medicine, both curative and preventive.
Two years ago, he set up the Centre for Cleaning Science and Technology (CCST), the country's first such facility.
Located in Bandar Damansara Perdana, Kuala Lumpur, the centre conducts training programmes for the cleaning service industry, as well as local councils, building owners, and property managers.

With the primary objective of raising the status and standards of Malaysia's cleaning industry, the centre's cleaning proficiency programme is accredited by Open University's Institute of Professional Development.
Before setting up the facility, Dr Nizar had personally surveyed the way cleaning operators normally worked. Some of his findings proved to be shocking. For example, a same mop was used to clean the toilet and the surau; a same rag to clean the bathroom and to wipe tables in eateries; and a same pail of filthy water used to mop corridor after corridor.
His conclusion was that many contract cleaners were simply clueless about cleaning. Mostly, the exercise seemed to be aimed not at actually cleaning but at creating the impression that cleaning had been done, that is, not to sanitise but to look clean.
"The thing is you have to clean right," Dr Nizar stresses. "You may not be able to control the public entirely but you can control the cleaners and the quality of cleaning."
He had also visited Singapore's Institute of Cleaning Sciences, a franchise of the British Institute of Cleaning Sciences. Across the causeway, he notes, professional cleaners are required to sit a proficiency test, both theory and practical.
In Malaysia, it is important that building owners, property managers and local councils send their staff for training, Dr Nizar adds. This is because there are today a very wide range of cleaning machines designed for all kinds of functions. Then there are the chemicals which must be handled properly.
In addition, cleaning processes can be quite job-specific, be it the cleaning of air ducts, treatment and prevention of graffiti, maintenance of various types of surfaces or basics like chewing gum removal.
For cleaning companies, such training makes economic sense, too. For instance, without this knowledge, they will not be able to realistically device a price structure upon which to negotiate a cleaning contract. As for the prospective clients, most will recognise that it is best to go with a professional outfit to minimise the risk of ending up with a whopping bill on restoration works for a botched-up job.
"Lack of knowhow among property managers is the primary cause of poor maintenance of buildings," says Dr Nizar.
"They get incompetent cleaners and these people destroy the properties. So the management has to cough up money to do yearly restoration and refurbishing."
Nelson Leong Kwai Ping, general manager of Ogosin Sdn Bhd, agrees.
"The notion that a mop and bucket is all you need to clean is archaic. In the developed countries, cleaning has become a highly professional field. In fact, the 'First World Facility, Third World Mentality' complaint regarding Malaysian amenities can be attributed to the fact that cleaning as a process has been hugely neglected.
"The industry must professionalised itself in the shortest time possible. As a matter of urgency, a body comprising the Government, local councils, training schools, suppliers, contractors and other stakeholders should be set up to draw up minimum standards," Leong says.
Arguing that the Government should be more receptive and exposed to the cleaning service industry, Leong — whose company has been in the business for 25 years — says: "Right now, it's a free-for-all. Unless standards are imposed and cleaning contractors are certified and classified, the country will continue to be plagued by poor maintenance and dirty surroundings."
Dr Nizar may remind one of a young Don Aslett, the author of numerous books on cleaning techniques and self-styled No. 1 cleaner in America, but all he dreams of is a day when no Malaysian would fear to walk into a public toilet.
Meanwhile, his centre has trained staff from Propel, Pantai Mediwest, Dewan Bandaraya Kuala Lumpur and Universiti Kebangsaan Malaysia.
The going has been tough, still is, principally because of the need for him to relentlessly prod and irritate people into action, even just to see the urgency of the matter. On the positive side, he can be likened to a grain of sand in an oyster which will one day become a pearl — and be appreciated.
DR CLEAN'S DIAGNOSIS
INDUSTRY MUST BE RATIONALISED: Nobody can tell for sure about something as basic as the size of the industry. There are so many players but numbers don't guarantee quality. And there are no proper guidelines to qualify cleaning enterprises for bids to undertake a cleaning and building maintenance job.
Without guidelines on such things as a company's manpower, technological and management capacity as well as knowhow, anyone with minimal or zero knowledge can bid for contracts. Unlike in the construction industry where contractors are graded, there is no classification of cleaners based on professional competence.
THE CLEANERS THEMSELVES MUST BUCK UP: Cleaning knowhow and cleaning product knowledge are not fully pursued by cleaners. Unlike Singapore, which imposes practical and theory tests on would-be cleaning operatives (questions range from which chemical to use on which type of surface to which colour pad to use for which scrubber machine for which function), Malaysia's cleaning service industry operates on the basis of: "Aiya, even my grandmother can do lah".
WHAT STANDARD? There are no established standards for cleanliness. Lack of education on the part of the authorities (such as local councils), building owners and property managers as well as the cleaners themselves is a major obstacle against the much-needed professionalisation of the industry.
"Our architectural and engineering ability has reached the point where we can build the world's tallest buildings but our cleaning and maintenance ability has lagged far behind."
WHAT BENCHMARK? There is no benchmark for players to strive to match and maybe exceed, with a view to promoting the development of the Malaysian cleaning service industry to the level where it can compete in the international market and export cleaning services.
"The Government should nurture the industry so that it will reach that level."