News
Banking On A Clean-Up
By ROZI ALI
(News taken from New Straits Times: June 12, 2005)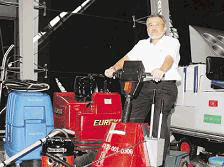 Former banker Mohd Said's clarity of vision and single-minded pursuit of cleanliness as a science have allowed his company Sinar Jernih to clean up on the competition.
MOHD Said Osman's professional credentials are rooted in the respectable field of banking and finance. That seems a far cry from what he is doing these days-turning the dirty business of cleaning respectable.
Yet, the two endeavours share one thing in common-big money. Sinar Jernih Sdn Bhd, the company that the affable and down-to-earth former banker co-founded with executive director Lt Col (R) Azmi Ibrahim in 1995, has raked in millions from-well- cleaning up after people and ensuring that their premises and facilities are spotless.
FULLY EQUIPPED: Mohd Said shows off some of the tools of his trade. Managing director Said, 47, doesn't want to go into specifics about the company but notes
that its operations are manpower-intensive, with wages accounting for 85 per cent of the operating costs.
He says profit is about three or four per cent of the turnover, which is probably not as thin a margin as it seems, given that Sinar Jernih has been able to expand exponentially, from a RM6,500 paid-up capital at start-up to RM6.5 million today.
Yes, there is gold to be had in scum-scrubbing, speck-blowing and filth-flushing.
The company has also helped to redefine the cleaning services sector, principally through its emphasis on technology, research and development, and training for the staff (with the British Institute of Cleaning Science and Malaysia's own Centre for Cleaning Science and Technology, or CCST).
And then, there is the over RM2 million investment in state-of-the-art equipment.
Happily, all of this has not gone unrecognised. Indeed, Sinar Jernih has pulled way ahead of the pack by earning not one, but three accreditations — ISO 9001 for quality service, ISO 14001 for its 100 per cent environmentally-friendly policies and processes, and ISI 2020, which comes with the distinction of it becoming the first cleaning company in the world to be accredited by the Research Institute of Standards in Islam.
And for good measure, "we will obtain another one — the ISO 1801 certificate for health and safety at the workplace — this July", Said says.
Business-wise, in just 10 years, Sinar Jernih has built up an enviable record for itself. For example, it is synonymous with the cleanliness of Kuala Lumpur International Airport (KLIA). Its capacity to maintain 1,200 lavatories and keep an area of more than 278.7 sq metres squeaky clean is evidenced by the fact that in 2003 KLIA was certified by the International Air Transportation Association as the cleanest airport in the world.
But if Said is tight-lipped about the company's annual turnover, there are sufficient indications as to how well it is doing. Apart from the cleaning and facilities management services contract with Malaysia Airports Bhd for KLIA, it has a similar agreement with Telekom Malaysia Bhd, TimeDotCom Bhd, Keretapi Tanah Melayu Bhd, Express Rail Link Sdn Bhd, Syarikat Prasarana Negara Bhd in respect of the LRT stations, Berjaya Times Square and KLCC Urus Harta.
Then there are the deals with Pantai Medivest Sdn Bhd involving the group's hospitals as well as the provision of hospital support services in 19 public hospitals in Negri Sembilan, Malacca and Johor; and likewise, with Faber Medi-Serve Sdn Bhd for 15 public hospitals in Kedah, Perlis and Penang.
In addition, the cleanliness of Parcels B and C of Government Office Complex Putrajaya, the Prime Minister's residence and office, also comes under his company's charge.
The list of clients keeps growing, too, and beyond the nation's shores as well. So far, Sinar Jernih has secured close to 50 overseas contracts — in India, Brunei, Sri Lanka and more recently, Abu Dhabi and Dubai. Its subsidiary, Sinar Jernih (India) Pte Ltd, employs over 2,000 workers, and its clients include the Taj Group of Hotels, Sheraton Oberoi, and the Wockhardt Park Hospital.
In Sri Lanka, joint-venture company Sinar Malship Lanka (Pvt) Ltd oversees the cleaning and maintenance of the Majestic City Shopping Complex. In Indonesia, subsidiary PT Sinar Jernih is in the final stages of negotiations with three big companies for facilities management contracts and, in a collaboration with Pantai Medivest, hospital support services.
Said is particularly proud of the company's performance on this front, that it has been able to export its services. "I want Sinar Jernih to be a global brand name in the cleaning service industry," he declares.
Ambitious? Then again, Sinar Jernih is already described as a cutting-edge techno-cleaner. Robotic as it may sound, the fact remains that the company owes much of its capacity to the deployment of information technology.
Its cleaning processes are monitored by an electronic cleaning monitoring system which allows the client to rely on the company's preventive and corrective methodology to ensure that the premises stay in tip-top condition. Together with a computerised project management system, the company keeps track of all its activities and the quality of services rendered to clients.
The crossover from banker to cleaner came from a stray thought. Said wanted a recession-proof business and cleaning seemed a logical candidate.
But in the beginning, things were quite tough, though one thing he had going for him was the fact that he was (still is) not aversed to joining his cleaning staff (or cleaning operatives as they are called) on a job by picking up one of the four colour-coded mops or handling the scrubber.
At the time, some suppliers had to provide him with credit for up to eight months. But his break eventually came: Sinar Jernih won participation in the vendor development programme of Pantai Medivest, which was awarded the privatisation concession to provide support services to public hospitals in the southern States.
Recalling the early days, Said says, "Sinar Jernih is born out of this vendor development programme. We wouldn't have reached this far if it were not for Pantai Medivest's commitment to it and our suppliers' faith in us.
" The scope of the business, according to Said, is boundless. Integrated facilities management services include housekeeping, building maintenance and management, civil and structural maintenance, mechanical and electrical maintenance, lift/elevator maintenance, air-conditioning system services, security services, peripheral services, pest control, waste management, landscaping and nursery services and garbage collection.
Housekeeping services cover general and industrial cleaning, high-rise facade cleaning, all kinds of polishing work, all types of carpet and upholstery shampooing and air duct cleaning. Solid waste and clinical waste handling, and hygiene services and supplies, meanwhile, come under environmental and hygiene care services.
"We want to be a one-stop centre providing comprehensive cleaning services," Said says.
But like its founder, Sinar Jernih keeps a low profile. Said believes the company should only be visible in the shiny surfaces of its clients' premises. He is serious. That explains why it is still not unusual to see him crouching on the floor to measure the gloss of a client's granite flooring with a special meter.
A reading of over 80 per cent is required. Otherwise, it will have to be re-polished, which brings to mind a tale about Sinar Jernih's job at KLIA. Apparently, the polishing of the floors was so well done that an unexpected issue cropped up — it was pointed out that the mirror-like surfaces posed a threat to the modesty of women in skirts.
And by the way, for his own bathroom at home, the boss of Sinar Jernih does all the scrubbing by himself. Wait, there's more — he makes the bed, airs the pillow and cleans the toilet before he takes his shower each morning, all that before he drives to office — from Bukit Baru, Malacca to Old Klang Road, Kuala Lumpur.
"My wife is very lucky," he roars with laughter.
On a more serious note, Said says he wants to imbue dignity into the profession. "I tell my staff not to be ashamed of being cleaning operatives. But I do get irritated when someone says 'even my grandmother can clean'. Yes, but to clean well, you need science and technology. It's not a simple profession and I still run to the CCST for solutions. This white hair is premature, believe me," he says.
Some people might put the success of his business down to luck, but that doesn't account for the long hours he spent alongside his cleaning staff on the job, the search for and adoption of appropriate cleaning methods that can be mastered even by a semi-literate, the dogged pursuit of tenders in a business field that doesn't traditionally value technology, and not least, the passion for a pristine environment.